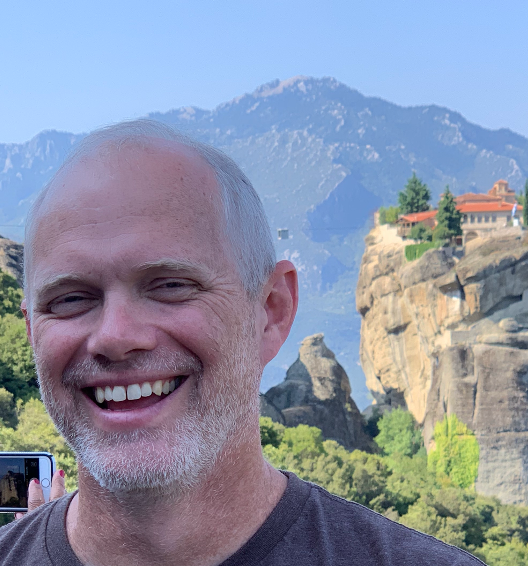 Adam Rindfleisch, MPhil, MD, is an associate professor with the UW Department of Family Medicine and Community Health. He graduated from College of Idaho with a combined degree in chemistry, zoology, and religions. As a Rhodes Scholar, Adam completed a Masters of Philosophy at Oxford University in Comparative Social Research, which allowed him to learn about complementary approaches practiced worldwide.  He completed medical school at Johns Hopkins and then family medicine residency at University of Wisconsin.
In 2005, Dr. Rindfleisch completed the University of Arizona Integrative Medicine and the UW Academic Integrative Health fellowship.  He directed the University of Wisconsin fellowship for the next ten years and created a comprehensive, two-year integrative health curriculum that is now being used at UW, UCSF, and other programs.  Currently, Dr. Rindfleisch is Medical Director for UW Integrative Health, a team of over a hundred complementary and integrative health providers.
Dr. Rindfleisch is committed to making CIH approaches more accessible at both the local and national levels.  As a contractor with the Veterans Health Administration since 2013, he has developed multiple courses focused introducing VA clinicians to Integrative/Whole Health.  He has co-taught these courses at over 60 different sites nationwide, to thousands of clinicians.  He has led the development of courses focused on Whole Health for Pain, Whole Health for Nutrition and most recently, Whole Health for Mental Health.  His team from the UW worked in coordination with the VA Office of Patient Centered Care & Cultural Transformation to create the Whole Health Education Website, www.wholehealth.wisc.edu as well as over 50 Veteran handouts and the Passport to Whole Health reference guide.
Currently, Adam and his team are developing educational materials for the Whole Health Institute, a newly created nonprofit organization dedicated to making whole-person care available to all.
Some of Adam's main interests include clinician self-care, spirituality and health, dietary supplements, biofield therapies, and curriculum design.  He loves to read and travel and has two sons, as well as a dog who thinks he is a human.
"Adam is a true healer, for being in his presence provokes one's consciousness to emerge. I am inspired by the way Adam offers himself, not only as a guide and facilitator, but as a companion and friend through the journey toward health and well-being. Learning from and observing Adam has been profoundly beneficial for both my personal and professional development."
"Adam is not your parents' family doctor. He knows every healing technique that guy did and many worlds more. At the last Living Whole Retreat, I asked if he could help with a health issue I'd had. He asked me questions for 15 minutes and then began a session that aligned perfectly with all the healing work I'd been doing, but seemed to accelerate it. Six weeks later, I'm still feeling the effects. If we had more doctors like Adam, we'd have a lot fewer patients."