Part 1
Our Summer Solstice Sojourn celebrating Stephanie's 11th birthday with 11 days of movement and nature
Integrative Health combines the best in conventional medicine, food, movement and mind/body/spirit disciplines. In Part 1 of a two-part series, David Read recounts how his family shared eleven days of cycling, nature and nurturing relationships with family and friends.
---
By David C. Read, MPH, MBA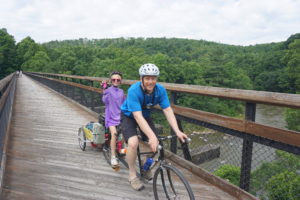 It was just after midnight one cool June night and I could tell by the whining and squealing that something was clearly out of alignment. It wasn't my breaks or derailleur—it was the band saw. But there was no time to adjust woodworking tools now; we were soon leaving for our long-planned family bike trip. A few last-minute glitches and logistical issues somehow would all need to be solved.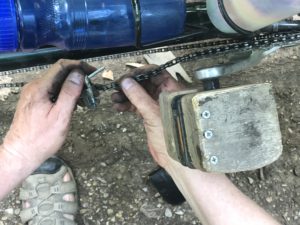 I was in my workshop fashioning a couple of pine pedal blocks for a tandem. Earlier that evening our daughter, Stephanie, tried the back seat of the bike and she was still just a little too short to reach the pedals. I needed to come up with a way to be able to easily take on and off the blocks depending on who was riding on the back with me. The band saw seemed to be cutting fine, just noisy, so I pressed on shaping platforms for the rear pedals. Next, I drilled holes in the blocks for long screws, so the blocks could be attached without ruining the pedals while being quickly removable. Last, a light sanding and a couple of coats of polyurethane so the wood wouldn't swell or crack when wet. We were now back in business.
We had been planning an 11-day self-supported trip as soon as Stephanie turned 11. Her birthday was the week before and in a few days the kids would be out of school–that same night we'd leave for Pittsburgh. A couple of times my wife, Susie, mentioned perhaps we should wait to do the ride next year when Steph had turned 12. I'd have no part of it–there would be no kicking the can down the road any longer for this family adventure.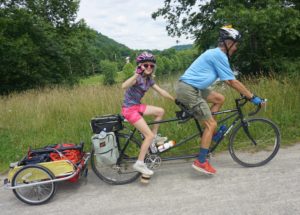 Susie had recently suggested bringing a friend's tandem as a back-up plan for this family trip–and it turned out to be a well-used option. Each morning of the trip Susie could start out on the tandem with me and, in the afternoon if Steph requested, I could quickly add the pedal blocks and they would switch bikes. Steph has a low frame Gary Fisher which Susie has used from time-to-time, so no issue there.  If Steph got tired partway into the day's ride, she could hop on the tandem with me. Whiny kids can be much harder to adjust than whiny band saws. We had used a tag-a-long on prior bike trips but Steph let us know that, since she was 11 and now categorizes herself as a "tween", there would be no more trips on bikes for little kids. Our 14-year-old son, Brandon, was all set for a bike trip–we'd all have a hard time keeping up with him after his last few seasons of hockey sprints. His only requirement, as we'd be off-road and remote at times, was a new pair of earbuds to listen to his playlist.
We had done a couple of self-supported family bike trips before–Cape Cod and a 5-day trip in Quebec. For this 11-day trip we selected the Great Alleghany Passage (GAP) and the Chesapeake and Ohio Canal Towpath (C&O) trails starting in Pittsburgh and ending in Washington, DC. The main objective when riding with kids is, of course, safety, and both these trails are off-road for 99% of the route.  Both the GAP and C&O also have mile markers that are helpful when the next town or campsite is coming up.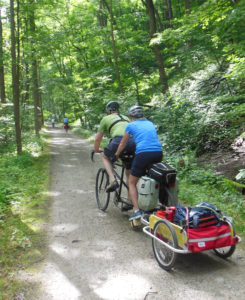 Since we were leaving on June 21st we named the trip our Summer Solstice Sojourn. I also offered to carry most of the family luggage in a two-wheel Burley trailer behind the tandem. With this set-up there'd be some significant mass coming down these trails and the weight of the rig took some getting used to. To encourage minimalist packing, each of us was allocated a 45-liter Patagonia water-resistant bag. All four of them fit nicely in the trailer – anything else individual family members wanted to bring, they would have to carry themselves.
One evening, as I got the fully loaded tandem out for a training ride, I tried convincing my wife that good things would come from this trip: "Hey, either it will be a great vacation, or it could be something the kids write their college essays about someday!" As I rolled the bike out, she rolled her eyes.
And for additional motivation for our kids getting on board with this adventure, we invited other kids their ages (and accompanying parents!) to join the trip. Once we had our dates selected and lodging logistics down, we mailed the trip info out to family and friends to see who may be interested in joining us. If the places we selected were booked, we also provided a back-up list of nearby hotels, B&Bs and camp sites. But that was it: people had to want to do this trip and have enough skin in the game so anyone interested had to figure out their own accommodations and logistics. We also posted a 'Companions Wanted' ad in the Adventure Cyclist magazine asking for other families with kids close in age to ours who might like to come along. While most of our friends said, "thanks but no thanks" to an invitation to spend 11 days in the saddle, some eventually got on board with the idea. So before we left, our ride had morphed into the "Summer Solstice Sojourn: Friends and Family Plan".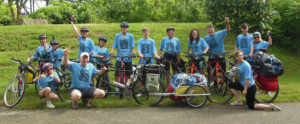 We left our home in Massachusetts before sunrise on the longest day of the year to drive to the Steel City where we left our car. Many of the hotels near the trail now cater to GAP cyclists and ours allowed us to leave our car in their parking lot for the whole time we'd be riding–and best of all, multiday cyclists are only charged for one day of parking whenever they arrive back to pick up their car. The plan was to meet interested others on the trail near our hotel the morning after we arrived. We were pleasantly surprised when many more showed up than we had anticipated, some letting us know they'd be joining the ride at the last minute.
From the beginning, Susie's dad had planned to ride with us for 5 days; so, for much of the trip we had 3 generations out on the trail. I'd ridden this route a decade earlier with my father-in-law and, back in the day, we did it in 6 days. For this trip with kids and other families who don't regularly cycle, we chose this more leisurely pace. We had a batch of fun t-shirts made with our Summer Solstice Sojourn graphic and handed them out to anyone who joined us.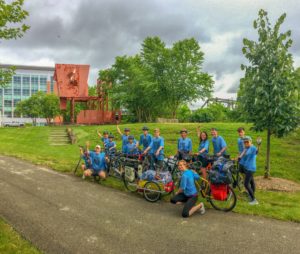 After a quick group picture, we headed down the trail with various configurations of trailers, panniers and backpacks–some over-packed, some under-packed. Just before we pushed off, we were surprised by another cyclist who arrived. Doug Riegner, of the Alleghany Trail Alliance, had seen our "Companions Wanted" ad so he came out to ride most of the first day with us. Every few miles he'd stop to chat about locations of former steel mills and the many ways the trail is now benefiting the greater Pittsburgh region.
During the trip, our friends came and went as their family and work schedules dictated. After daily hello and a few sweaty good-byes, our family pressed on each day. Most of the other folks had never done any adventure like this before so we were inoculating others to the wonders of bike travel. In the end, five other kids with ages close to our children's joined us for several days at a time. In addition, my niece, Caroline, on summer break from college, did the whole trip with us. It was wonderful to see the cousins bond during this adventure–much better quality time than at the annual family Christmas party.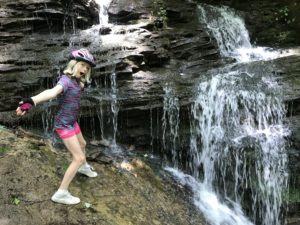 Over the next couple of days we passed many waterfalls, including separate red-, white- and blue-tinted streams, their colors a result of high concentrations of a particular mineral in the rock and soil. For much of the trip, there were several freight trains each hour passing us and we were always next to or crossing back and forth over a river. The trains continued into the night–I loved hearing them in the distance but, for those who preferred a good night's sleep, some places had a candy dish next to the beds offering foam ear plugs.
Heading southeast on the trail there is a slight but steady climb–one that is noticeable when pulling a tandem and luggage for four.  Our unofficial group passed through the Pennsylvania towns of Homestead, Boston, West Newton and Confluence. The afternoon that we pulled into Connellsville, we made it just in time for the last tour of the day at Frank Lloyd Wright's Falling Water house, which was well worth the effort. One of the highlights on the GAP is lunch in Ohiopyle where we mingled and shared stories with other cyclists and whitewater rafters as we waited for a table.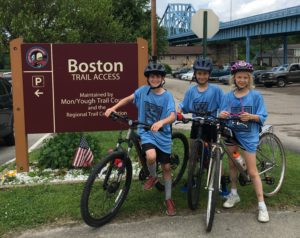 It was impressive to observe what the development of the trail has done for these small towns in Pennsylvania and Maryland. With 26 of us riding all or various parts of the trip, our meandering group had become somewhat of a mini-economic stimulus package for the region. And the slower the group, the more money we handed over to merchants on or near the trail. Every day we bought food, ice cream, t-shirts and beer–and not necessarily in that order. Some evenings there would be more of us in the small restaurants than all the locals combined. The two things that cyclists routinely bring with them are: their bikes and their wallets–we were giving both a workout.
There was a bit more gradual uphill before we went over the 1,900 foot-long Salisbury Viaduct that traverses the wide valley below. This was an impressive engineering feat when built over a century ago. As we rolled over the steel structure, a long freight train wound off into the distance on the tracks below and wind turbines spun on the mountain ridge several miles away before arriving in Meyersdale. Next we'd cross the Eastern Continental Divide where a large mural graphically displayed that it would be all downhill from here.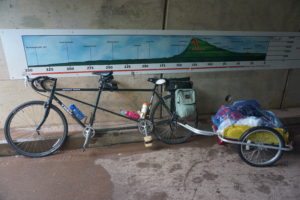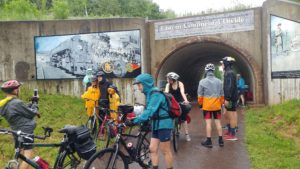 Maybe so, but even with gravity now on our side, mother nature always seems to have a way of slowing us down. Not far from the Divide, the trail crosses the Mason-Dixon Line where my daughter hopped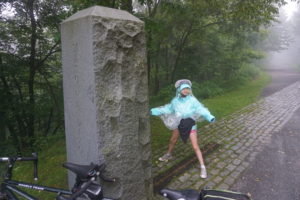 back and forth between the state lines of Pennsylvania and Maryland. While she couldn't provide the pedal torque my wife could, I loved having her on the back of the tandem with me.  She would sing, give me French lessons or run her fingers across my back for me to guess which letter or number she was drawing. Tween or not, and even with our minimalist packing mandate, she still wanted to bring her favorite stuffed animal on the trip. That gave me slight comfort that she was still a little girl, at least for a while longer.
A light rain had started but there was a man-made dry stretch ahead—the kilometer-long and cool (literally) Pinkerton Tunnel. We then had lunch in Frostburg, MD and cruised into Cumberland, MD.
Cumberland, where the GAP and C&O meet, has become quite a trail town and has many more dining and shopping options than some of the other towns we visited along this route.
The stretch into Cumberland includes a section of "rail with trail" as train tracks parallel the stone dust path and was indeed a fast ride–especially with the weight of the trailer nudging the tandem downhill. At times I even had to ride the brakes a bit. Once I had to lean on them hard to stop the rig when Steph screeched after spotting something on the trail. She would not pedal another stroke until she disembarked to pick up the small orange creature and escort one lucky salamander safely off the trail.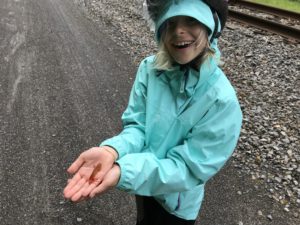 ---
In next week's post, David Read will continue to recount his family's extraordinary group movement experience as they complete their bicycle trip through nature to Washington, DC.
---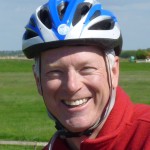 David is a board member of the 15-state East Coast Greenway (ECG) project (www.greenway.org) which has a goal of promoting active living and non-motorized transportation along the eastern seaboard of the United States. David is currently the Vice President of Ambulatory Care Operations and Medical Oncology at the Dana Farber Cancer Institute in Boston, Massachusetts. He views self-supported bicycle touring as a nice diversion from oncology. David also is a member of the International Integrators Advisory Council. He can be reached via www.davidreadwoodworking.com.