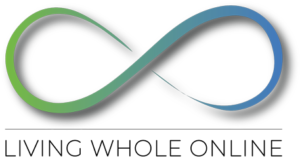 We are living in complicated times. The pandemic has exposed myriad health, economic, climate and social stresses. By being savvy about self-care and learning about Integrative, Whole Health you can navigate these challenges with confidence, wisdom and creativity.
We created the Living Whole Online community to provide connection, learning and resources to support your mental, emotional, spiritual and physical health.
Through Living Whole Online, you may access recorded programs and live events that bring our community together through conversations about medicine, science, consciousness and spirituality, mindful movement of our bodies and food adventures involving cooking and eating. You may explore what it means to "listen" to art and have your own creative art experiences. Enjoy new music and meditate in a Sound Bath. Support healing yourself through Jin Shin Jyutsu. Discover your voice by writing and be transported by poetry.
All our programs are prepared by leading professionals in conventional medicine, plant-based whole food, movement and mind/body/spirit disciplines that include energy practices, art, music and writing. Families can benefit greatly from our online resources, games and entertainment.
After spending months building this resource, we are now ready for our soft launch. For the next six weeks, we are offering a Pre-Launch Membership Special that will give you access to these new resources for $20/month/person as well as a special pre-launch, live event with Dr. Kathryn Hayward.
You can learn more about Living Whole Online from Kathryn in this short video.
The Pre-Launch Special Membership price of $20/month/person is available from now through April 30.  By joining now, you can continue your membership at this reduced rate for 12 months, even after the general membership increases to $25/month/person. Click here to join now.
We look forward to being with you soon!
Warmly,
Kathryn Hayward, David Thomas, David Gunzenhauser
and the International Integrators Team