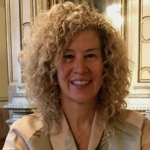 "The part can never be well unless the whole is well."  
At the Bay Path University commencement in May, 2017, Dr. Carol Leary, President, quoted these words as she conferred an honorary doctoral degree on Kathryn Hayward, MD of International Integrators and introduced her as the commencement speaker. Dr. Leary was referring to the perspective of holism that Kathryn has developed in her life and Integrative Health practice, and that underlies the mission of International Integrators to promote Integrative Health globally.
Integrative Health is founded on the tenet that our whole being must be healthy in order for us to thrive. We cannot just cure or manage a disease for us to thrive. We also must care for ourselves fully through the way we eat and move our bodies and how we practice mind/body/spirit disciplines that promote our emotional, psychological, spiritual and physical alignment.
In her commencement address, Kathryn spoke to the fear of failure that occupies the thoughts of so many of us, not just the graduates of the University to whom she was speaking. Managing fear of failure, and learning from and even celebrating our failures, she said, is the route to a happy, healthy and successful life. Fear of failure does not have to limit our paths and fragment our being.
In this blog post, we share David Read's video of Kathryn's commencement address entitled "Under the Regalia" in which she focuses on our fear of failure. Kathryn reveals that she lives with a Thrive Pack strapped on "under her regalia". Find out what she carries inside her Thrive Pack, and what you can wear under your regalia.
Kathryn Hayward, MD co-founded and developed International Integrators because she loves to collaborate with others who share her vision for global integrative health. She brings to International Integrators her experience in the practice of conventional medicine as a primary care internist, and in integrative health, as well as her connection to the natural world. Kathryn marvels at the power of collective, conscious action on the part of like-minded individuals to manifest change, and loves contributing to that action.
David Read has a passion for creating film. You can see his work in the January 23, 2017 blog post and in the April 11, 2016 blog post about bicycle commuting and safety. Apart from his film-making and bicycling activities, he served as the Administrative Director for Cardiology at Massachusetts General Hospital and as Chief Operating Officer for the Department of Medicine at the University of Pennsylvania Health System. David is currently the Vice President of Ambulatory Care Operations and Medical Oncology at the Dana Farber Cancer Institute in Boston, Massachusetts. David serves on the Advisory Council of International Integrators.