By Nina Gheihman
Nothing quite compares to the smell of bread baking in the oven, especially banana bread! This version is for the chocoholics out there who crave the satisfying texture and flavor of banana bread without the usual sugar, eggs and other unnecessary ingredients. Without these, the bananas truly shine through, and so will your health.
Marbled Chocoholic Banana Bread Recipe
Ingredients:
4 cups flour*
1 tablespoon baking powder
1 teaspoon cinnamon
4 tablespoon molasses or pure maple syrup
2 tablespoons chia eggs**
4 mashed bananas (make sure they are very ripe)
1 cup pure apple sauce (unsweetened)
2 tablespoons plant milk***
4 tablespoons pure cocoa powder
1 cup chopped pecans (optional)
1 cup raisins (optional)
1 banana cut vertically into thin slices (optional)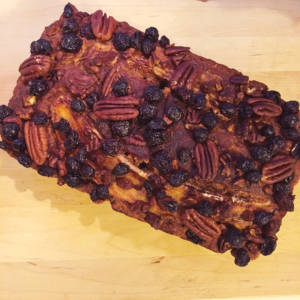 Begin by mashing bananas, and then adding the applesauce, molasses and chia eggs. Then add in the flour, one cup at a time, along with the baking powder and cinnamon. The mixture should be quite wet, but form a dough that sticks together when you stir it around. Add more flour if it seems too wet. Mix it thoroughly and then spoon half of the mixture into a different bowl in which you add the plant milk, cocoa powder, raisins, and pecans (leave a few pecans and raisins for topping), stirring thoroughly to create a chocolate version of the dough. Now add the chocolate dough back into the "vanilla" one and stir just a little bit, but not too much, to create a "marbled" consistency.
Line a loaf tin with parchment paper and scoop the whole mixture in. Then top with the sliced banana and pecans/raisins if using, and if you have extra cocoa powder, cinnamon and molasses, you can dust and decorate the top with these too.
Bake in the oven at 350° F for about an hour. You can tell if the loaf is done by puncturing the middle with a fork to see if it has solidified or is still too wet and needs more time.
Enjoy it with nut or fruit butter and a cup of tea!
*I use brown rice flour to make it gluten-free, but you can use whole wheat, spelt or any other kind of healthy flour.
**To make chia eggs, simply combine 2 tablespoons chia seeds with water, mix around, and leave for 10 minutes until the mixture becomes a gel-like consistency.
***You can use almond/hemp/oat/rice milk. Just make sure there are no additives, such as sugars or carrageenan, just the basic whole ingredients.
Nina Gheihman is a PhD Candidate in Sociology at Harvard University. Her dissertation is a comparative study of veganism in the United States, France, and Israel. On a professional level, Nina is interested in understanding how the same cultural practice can mean different things across societies, and what we can learn about what makes a particular culture more receptive to a plant-based diet. On a personal level, Nina is an advocate for how a plant-based diet shapes health, environment, ethics, and social justice, and how it can be a way of bringing people from many different backgrounds together. Nina has been vegetarian for most of her life for ethical reasons, and transitioned to whole food, plant-based veganism in the last couple of years, which was the most rewarding experience of her life. Inspired by the power of this lifestyle for her own life, Nina founded a plant-based advocacy group called Boston Plant-Based Millennials, which is affiliated with PlantPure Nation, and organizes monthly potlucks and other special events. She has also worked with the Boston Vegetarian Society and the Harvard Food Literacy Project to bring this lifestyle to a broader audience in the Boston community. Nina is an avid ballroom and salsa dancer, Francophile, yoga practitioner, and cook who sees recipes more as inspiration rather than as a set of rules, and especially loves to make whole food, plant-based desserts for friends to enjoy.