By David L. Thomas, Jr. and Kathryn Hayward, MD
A group of long-time friends, including International Integrators blogger Tom Courl, have celebrated their birthdays together each April for many years. Last year one factor had changed. Tom had gone vegan, eating a whole food, plant-based diet with no oil or nuts. You may remember why based on his blog posts (Part 1 and Part 2) in February of 2015. He had adopted Dr. Caldwell Esselstyn's diet to reverse heart disease.
We were fortunate to be invited to this year's festivities along with International Integrators Advisory Council member, David Read. One of the highlights of the event was meeting Catherine Braun and her partner, Woody. Catherine and Woody are very accomplished in the kitchen and set about to learn how to make party food for Tom that he could actually eat.
The main challenge was that the food was so good that Tom had to act fast to get some before the other celebrants devoured the lot. We contented ourselves with pictures of partially eaten dishes for purposes of this post since we were not quick enough with the shutter before the hungry hoards started in.
Catherine admitted that they had never attempted plant-based cooking before. As she explained it, "Woody and I really enjoyed taking on the challenge to make Tom-friendly dishes that everyone might enjoy.  It was fun to read, learn and try some new things – certainly neither of us had encountered a flax seed egg or nutritional yeast before!  You guys know that I come by sharing love through food honestly from my mom and her cookies, and I'm lucky that Woody is right there with me (he's actually on a wonderful bread baking journey right now)."
Catherine shared with us the recipes they found on the internet and modified for Tom.
Carrot Hummus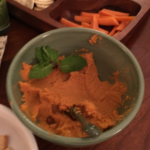 We followed the recipe as is, using garbanzo beans.  Woody and I are not hummus fans (at all) and this recipe will now be in full rotation at our house.  It would have been nice to garnish with pomegranate seeds and cilantro or parsley, too.
Black Bean Chili Dip  We modified the recipe by sautéing the onion in a little water instead of oil (low heat for a long time before adding the garlic), partially mashing the beans, adding pulverized dried mushrooms with the jalapeño, adding chopped fresh tomatoes with the seasonings, and finishing with lime juice and cilantro off the heat at the end.  We actually liked this recipe better than the version I've been making about 20 years!
Brussels sprout/carrot/apple salad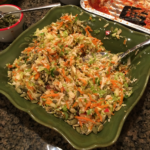 We left out the sunflower seeds (because of the oil restriction…), tripled the dressing (mixing it together separately from the salad), tossed the apples in some of the dressing before adding them to the salad, and served grated parmesan and pepitas on the side. I'll be looking forward to next Brussel's sprout season….
Pumpkin Chocolate Pudding Cake  We were interested to hear that this tasted OK because Woody said it looked like nuclear waste – which is exactly what the pictures on the internet look like! My guess is the store bought birthday cake was more tempting to nearly everyone.
Everything was absolutely delicious, even the "nuclear waste". Experimentation is key to inventing new recipes and an outcome that is not picture-perfect is more a sign of creativity than an indication of failure. We have no doubt that Catherine and Woody will conquer the birthday cake challenge.
As notable as the food was Catherine and Woody´s spirit of love and friendship that infused their effort to give Tom a plant-based birthday feast. They supported Tom´s eating preferences with their time and effort, and all of us were as touched by their gesture as we were wowed by the food they prepared.
And now we need to figure out how to wangle an invitation to next year's group birthday party!
David L. Thomas, Jr. co-founded and developed International Integrators in concert with his passionate desire to initiate change in the way that we care for ourselves and each other, and the way we interact with and affect our natural environment. He brings his background as an attorney and businessman, and his expertise in nutrition and plant-based cooking and eating, to the collaborative effort to identify, mentor and support leaders in Integrative Health. David holds a BA in Spanish Literature from Haverford College, a JD degree from Georgetown University and a certificate in plant-based nutrition from the T.Colin Campbell Center for Nutritional Studies and Cornell University.
Kathryn Hayward, M.D. was a primary care internal medicine specialist at the Massachusetts General Hospital and Harvard Medical School for 20 years. She now lives in Mallorca, Spain, where she practices Integrative Health in the United States and elsewhere through Odyssey Journey: A Collaborative Approach to Wellness, and is co-founder of International Integrators, a community devoted to the global promotion of Integrative Health.