By Nina Gheihman and David L. Thomas, Jr.
Last week we remembered our brunch with International Integrators Advisory Council member David Read and his family and Facilitator Hadley Johnson during a visit to Boston. This occasion permitted Nina and Hadley to share the two smoothie recipes included in our most recent post as well as the following one contributed by Nina.
Get out your blender and try all these smoothie recipes!
Mango Lassi Turmeric Smoothie
By Nina Gheihman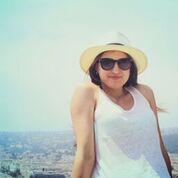 Turmeric is one of the most powerful health-boosting herbs on the planet, partly due to the benefits of one of its compounds, curcumin. We typically ingest turmeric via cooked foods, like curry, especially in Indian cuisine, which is renowned for its spices. But you can also add turmeric to smoothies as a way to get more bang for your smoothie buck. This version is reminiscent of another Indian cuisine favorite, the mango lassi (typically made with yogurt), except this version does wonders for your health. When you use turmeric, remember to also add a bit of black pepper, which aids with absorption and also gives this smoothie an extra kick.
2 frozen bananas*

2 cups nut or grain milk**

2 cups frozen mango

Dash of ground turmeric or about an inch lengthwise if using fresh turmeric

Dash of cinnamon

A bit of freshly ground black pepper
Blend in a powerful blender, and enjoy!
*To make frozen bananas, simply wait until bananas ripen to the point that they are spotty, with "cheetah" spots all over, which signals a higher fruit sugar content. Then peel and cut into pieces, and place in a container in the freezer. Wait at least a day for the bananas to become fully solid. You can use fresh bananas too, but it is the frozen fruit which gives smoothies that ice-cream like consistency.
**You can use almond/hemp/oat/rice milk. Just make sure there are no additives, such as sugars or carrageenan, just the basic whole ingredients. You can make your own almond milk from raw almonds.
More thoughts on smoothies
By David L. Thomas, Jr.
Our two-year-old granddaughter in New York City loves smoothies which she sips very slowly and rarely finishes, at least without help from us. When we are out walking together, we sometimes stop by our favorite custom organic smoothie shop and get her a treat. She is not too fond of green leafy vegetables, but when added to a smoothie she enjoys the drink without noticing them. Her favorite is mixed berries like blueberries with bananas and kale. While the smoothie is sweet enough to please her, it does not contain any added sugar or other refined or processed ingredients.
Because of the concentration of natural sugars, we would not recommend smoothies as a daily treat, but we find it a good way to bond with our grandchildren while also supplementing their diet with a nutritionally dense green vegetable.  Give it a try with the children in your life and be sure to take a few sips yourself!
Nina Gheihman is a PhD Candidate in Sociology at Harvard University. Her dissertation is a comparative study of veganism in the United States, France, and Israel. On a professional level, Nina is interested in understanding how the same cultural practice can mean different things across societies, and what we can learn about what makes a particular culture more receptive to a plant-based diet. On a personal level, Nina is an advocate for how a plant-based diet shapes health, environment, ethics, and social justice, and how it can be a way of bringing people from many different backgrounds together. Nina has been vegetarian for most of her life for ethical reasons, and transitioned to whole food, plant-based veganism in the last couple of years, which was the most rewarding experience of her life. Inspired by the power of this lifestyle for her own life, Nina founded a plant-based advocacy group called Boston Plant-Based Millennials, which is affiliated with PlantPure Nation, and organizes monthly potlucks and other special events. She has also worked with the Boston Vegetarian Society and the Harvard Food Literacy Project to bring this lifestyle to a broader audience in the Boston community. Nina is an avid ballroom and salsa dancer, Francophile, yoga practitioner, and cook who sees recipes more as inspiration rather than as a set of rules, and especially loves to make whole food, plant-based desserts for friends to enjoy. 
David L. Thomas, Jr. co-founded and developed International Integrators in concert with his passionate desire to initiate change in the way that we care for ourselves and each other, and the way we interact with and affect our natural environment. He brings his background as an attorney and businessman, and his expertise in nutrition and plant-based cooking and eating, to the collaborative effort to identify, mentor and support leaders in Integrative Health. David holds a BA in Spanish Literature from Haverford College, a JD degree from Georgetown University and a certificate in plant-based nutrition from the T. Colin Campbell Center for Nutritional Studies and Cornell University. He will be facilitating the nutrition and cooking curriculum in June at the next Living Whole Immersion Retreat in Ávila, Spain.