By Nancy Coppelman
Seventeen years ago, I had the good fortune to fall into Kathryn Hayward's hands. My gynecologist recommended her, thinking we would get along nicely. In retrospect, it was the beginning of a beautiful relationship, initially a fairly conventional one of doctor and patient.
It was evident from the beginning that Kathryn was a truly caring professional with extraordinary listening skills. Given my medical history, this was for me a new experience in the medical world. As we began to work together, Kathryn created a safe harbor for my ongoing exploration of health and wellbeing. I always left appointments feeling truly respected, honored and nurtured.
So when Kathryn announced in 2008 that she was leaving private practice to follow her passion into integrative medicine, I experienced a sharp sense of loss.
A lot happened between 2008 and the fall of 2015, when Kathryn and I finally reconnected at the screening of PlantPure Nation in Boston. I was happy to see her and to view the compelling film offering the vision of a new life through a whole food, plant-based diet.
Several months later, Kathryn and I Skyped for a couple of hours and caught up on life including some medical issues that had arisen since I had been her patient. It soon became clear that in confronting an array of medical problems, no one had ever mentioned the potential impact of diet.
I was following what I thought was a fairly healthy organic diet supplemented by a few indulgent favorites—tea with milk and honey; ice cream—always in search of the best mocha chip and mocha sodas/frappes— and the occasional grass-fed meat in hamburgers, steaks and the old family meatloaf. While cutting back on meats, I had fond memories of weekly Sunday dinners with some sort of roast, e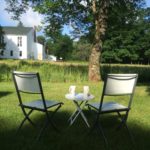 xquisite mashed potatoes prepared by my Dad, a vegetable or two, sometimes overcooked, and homemade pie made by my mother.
Kathryn shifted our conversation to bone health. My silence spoke louder than words, as my doctors had said that things were fine; I had never followed up with bone density testing and blood work since the original diagnosis.  Kathryn suggested that dairy was a significant culprit in maintaining good bone density. The thought of giving up dairy troubled me. How could I possibly drink tea and coffee without milk and how could I possibly bake fruit pies and crumbles and serve them without ice cream?
Despite my protestations, I knew deep down that the transition away from dairy was important for my health. I told my husband Jon all about our conversation that evening. I prefaced the conversation by saying that I had decided to transition to a whole food, plant-based diet and that there was absolutely no pressure on him to do so. As Jon has been so many times with my "aha" moments, he was immediately on board and stated that we would do this together.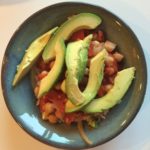 The transition to a whole food, plant-based diet has been gradual and steady. At our older ages, we have a lot of habits and associations around food. When people say, "How can you give up cheese and ice cream and hamburgers?", it's easy to respond that with so many years of doing it one way, it's fun to explore new flavors and dishes. As a potter, I am making large porcelain bowls which lend themselves to the beauty of our new concoctions. Our meals have become lighter, fresher and purer and we already feel a corresponding lightness in our beings.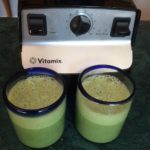 One of our greatest breakthroughs was an investment in a Vitamix. Jon makes rich almond milk every couple of days for our tea and coffee, and has recently started making smoothies and dressings, mostly without oil. His attachment to olive oil matched mine to ice cream, but he quickly committed to transforming the ways we approach food preparation.
I remind myself that this is not about rigid protocols and perfection, but rather steady effort. If we are at a party and there are lovely cheeses, we believe it's okay to have a bite, enjoy it and observe what comes to mind. Our mantra here is kindness—to others and ourselves.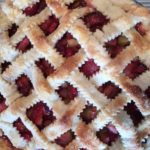 My next challenge is sugar. Although I have let dairy and meat go (I do admit that occasionally I have seafood, especially when on Cape Cod or the Coast of Maine), I realize that I still crave sweets. In working with this attachment, I am observing it and recognizing that sometimes the desire for sugar is related to the role sweetness plays in my life—and I can find and create sweetness in other ways besides ingesting sugar! I look forward to experimenting more with the healthier baked goods in the PlantPure and other whole food, plant-based cookbooks.
Our new and exciting lifestyle has led us to many new ingredients and recipes. And we are enjoying the process of preparing and sharing delicious meals. We are so happy with this new connection between us and with others.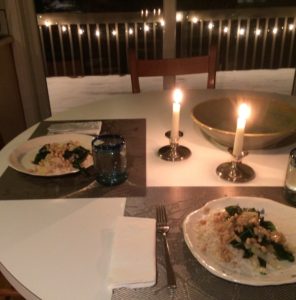 Nancy Coppelman is Co-Director of Outreach for the Center for Alzheimer Research and Treatment at Brigham and Women's Hospital in Boston. Prior to joining CART, she worked as a Participant Coordinator at the Framingham Heart Study. She is also the mother of two lovely daughters, Julia and Anna, both of whom are in their 20s.  Nancy has an A.B. in Art History from Wheaton College and, in her free time, practices yoga and ceramics.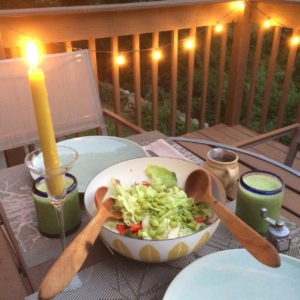 SAVE THE DATES FOR 2017 Living Whole immersions in the California Redwoods (March 19-24) and in Ávila, Spain (June 18-23). You can register now to ensure your participation in an unforgettable five days with others who are committed to greater consciousness and improving health through the food we eat, the movement of our bodies and practices that help reduce stress and enhance relationships. 
Also, don't miss the free, on-line PlantPure Summit, September 7-16, 2016. This Summit features 5 speakers per day, including Kathryn Hayward, MD, Dean Ornish, MD, Neal Barnard, MD, Colin Campbell, PhD, Michael Greger, MD, Tom Campbell, MD and many others.