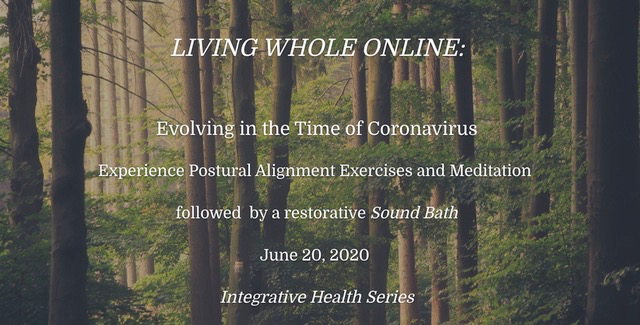 The coronavirus pandemic and a renewed focus on racial inequities continue to cause us additional stress. Integrative Health can help us thrive in this time of crisis and adjust to our new and evolving reality.
Each Saturday a group of International Integrators facilitators and other professionals are providing a series of online conversations and Sound Baths. The next  offerings are this coming Saturday, June 20, 2020:
11:00 am Eastern Daylight Time and 5:00 pm Central European Time:
Experience Postural Alignment Exercises and Meditation with Anna Forliti in a conversation moderated by Kristina King, MD and with contributions from Kathryn Hayward, MD. Anna is an Egoscue certified Postural Alignment Specialist with a Professional Fitness Coaching certification from LifeTime Academy, a NASM Certified Personal Trainer, Corrective Exercise Specialist and Performance Enhancement Specialist. She has also been trained in Advanced Mind-Body Medicine Skills Group. Kristy is a Family Practice physician and Integrative Health expert in Vancouver, British Columbia, Canada. Kathryn was an internist at Massachusetts General Hospital in Boston, Massachusetts and taught at Harvard Medical School for 20 years and now lives in Mallorca, Spain. More complete information on these panelists may be found on the International Integrators website.
Tips for enjoying the Postural Healing experience:
– Find a quiet, comfortable space where you can feel relaxed.
– Wear comfortable clothing that is easy to move in.
– Have a yoga mat, block, and strap available for the movement piece. You can use a pillow in place of the yoga block. You can use a belt or exercise band in place of a yoga strap.
*A laptop works best since you can set it on its base and adjust the tilt of the screen. However, it is possible to use an iPad or a phone if you do not have access to a laptop.
**Exercises can be done on a bed if getting up and down off the floor is challenging.  Or most of them can be modified to sitting or standing.
12:00 noon Eastern Daylight Time and 6:00 pm Central European Time:
A one-hour restorative Sound Bath offered by Maia Ibar and Tristan Martineau. More information about Sound Baths may be found on the Living Whole website.
Preparation for Sound Bath: You will need a place to lie down and relax with a blanket and pillow. We also recommend earphones.
Please join us for some or all of these Living Whole Online sessions! When you register you also will have access to video recordings of each session.