By Kathryn Hayward, MD and David L. Thomas, Jr.
"Those who grew up in the communist era have a strength of character that I find to be very impressive." The gaze of Farid Alipour was intense as he described his experience in Romania over the past few months. "They had to endure so much during the communist regime. They suffered greatly. Now, with an improving economy and better health, the people are taking action in prevention and wellness. They are intelligent, focused learners, and once they learn something that makes sense to them, they adopt it wholeheartedly. It is a silver lining in the dark cloud of communism."
We felt deeply moved by this observation, and as we looked around at the eager Romanians in the conference room, we could feel what Farid meant with these words.
Two days ago, we made our first trip ever to Romania. The organizers of a new health conference invited us to join Dr. LeAnne Campbell, Dr. Colin Campbell, Farid and others to share our teachings in the Ultimate Health Experience.
The impetus for this conference began in a very different part of the world—the Dominican Republic. LeAnne hosted a conference there in October, 2015 called Total Health Experience. LeAnne is the founder of Global Roots, a non-profit organization whose mission is "to create vibrant (healthy), inclusive and sustainable communities – locally and internationally". She is a seasoned, engaging and inspiring educator who also offers immersion experiences to teachers. "If you change the life of one teacher by broadening that teacher's experience, you impact hundreds and thousands of students."
LeAnne, the daughter of Dr. T. Colin Campbell, co-author of The China Study, and Karen Campbell, began her journey into whole food, plant-based eating when her parents did. LeAnne raised her two sons in that lifestyle and created the Dominican Republic conference to further that teaching.
Dr. Samir Dara and Farid Alipour attended the Dominican Republic conference, and it changed their lives. Samir is a physician who was born in Iran and grew up in Norway. Farid is a martial arts expert who also was born in Iran and moved to Norway later in life. They were deeply inspired by their experiences listening to Dr. Colin Campbell and Dr. Caldwell Esselstyn, and eating a week of whole, plant-based food.
After they returned to Europe, their Romanian friend, Cristina Batlan, was one of the grateful recipients of their enthusiasm. Cristina is the founder of Musette, Romania's top shoe and handbag manufacturer. As the chief executive of a growing and vibrant company, Cristina had a stressful lifestyle. She was ready for a change.
Cristina and her family immediately adopted a new way of eating, a very different lifestyle from the usual Romanian fare. And Cristina also began learning from Farid a variety of new movement disciplines, including qi gong, tai chi and a Japanese tea ceremony.
With immediate and impressive personal health improvements, Cristina felt in her heart that she wanted to share what she was learning with other Romanians. Because of her position in the business community of Europe, she has broad influence to inspire others. She connected with the Alpin Hotel in Poiana Brasov, a mountain town 2 hours north of Bucharest. The hotel owners expressed great interest in a project focused on helping people with prevention and wellness. They have been devoted to that for many years, with an award-winning spa and services.
Farid and Samir then asked LeAnne if she would help them create a conference in Romania, and together this team created the Ultimate Health Experience.
While we could only be there for one day of the seven-day conference, we felt the enthusiasm and excitement of the participants and facilitators. One woman described how much she needed inspiration, and was so thankful to find it there. Another told us of her brother who is now in remission from metastatic melanoma, thanks to his taking an Integrative Health approach, including a plant-based diet. A third brought forth the perspective that the great-grandparent generation had eaten mostly plants, and that the orthodox religion of Romania continues to guide its followers to eat only plants during 200 holy days each year.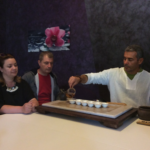 We experienced a Japanese tea ceremony with Farid, which was a very enlightening and relaxing experience. Farid also taught qi gong and tai chi classes outside in the cool mountain air. We ate amazing food created by LeAnne with the hotel's kitchen staff, an impressive feat given that this staff had never cooked in such a way before.
This enthusiastic team is devoted to the idea of bringing the Ultimate Health Experience message to as many Romanians as possible. We feel grateful that they invited us to contribute. And we applaud their work which is so welcome in our modern world.
Kathryn Hayward, M.D. was a primary care internal medicine specialist at the Massachusetts General Hospital and Harvard Medical School for 20 years. She now lives in Mallorca, Spain, where she practices Integrative Health in the United States and elsewhere through Odyssey Journey: A Collaborative Approach to Wellness, and is co-founder of International Integrators, a community devoted to the global promotion of Integrative Health.
David L. Thomas, Jr. co-founded and developed International Integrators in concert with his passionate desire to initiate change in the way that we care for ourselves and each other, and the way we interact with and affect our natural environment. He brings his background as an attorney and businessman, and his expertise in nutrition and plant-based cooking and eating, to the collaborative effort to identify, mentor and support leaders in Integrative Health. David holds a BA in Spanish Literature from Haverford College, a JD degree from Georgetown University and a certificate in plant-based nutrition from the T.Colin Campbell Center for Nutritional Studies and Cornell University.