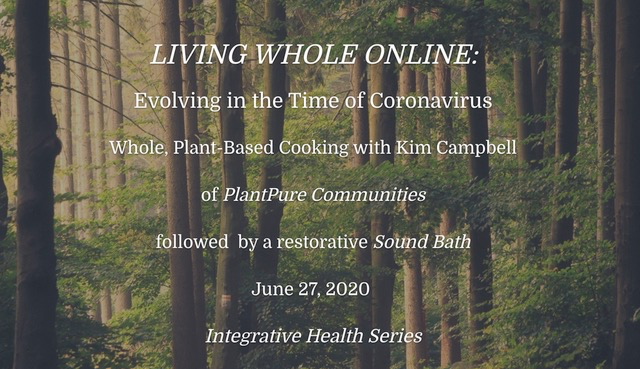 New outbreaks of the coronavirus pandemic and a continuing focus on racial inequities and political divisions continue to add stress to our lives. Integrative Health can help us thrive in this time of crisis and make us feel safer and more in control in our new and evolving reality.
Each Saturday a group of International Integrators facilitators and other professionals are providing a series of online conversations and Sound Baths. The next  offerings are this coming Saturday, June 27, 2020:
11:00 am Eastern Daylight Time and 5:00 pm Central European Time:
Whole, Plant-Based Cooking with Kim Campbell in a conversation moderated by Kristina King, MD and with contributions from Kathryn Hayward, MD. Kim will engage you with learning from her online classes and cookbooks, PlantPure Nation and PlantPure Kitchen. Kim has developed more than 250 delicious whole food plant-based recipes using no processed oils. Kim is also the Director of Culinary Education and Development at PlantPure, where she works with her husband, Nelson, building an organization that promotes a whole food plant-based diet. Nelson directed and produced the groundbreaking movie, PlantPure Nation. More complete information on these panelists may be found on the Living Whole and the International Integrators websites.
12:00 noon Eastern Daylight Time and 6:00 pm Central European Time:
A one-hour restorative Sound Bath offered by Maia Ibar, Baptiste Ibar and Tristan Martineau. More information about Sound Baths may be found on the Living Whole website.
Preparation for Sound Bath: You will need a place to lie down and relax with a blanket and pillow. We also recommend earphones.
Please join us for some or all of these Living Whole Online sessions! When you register you also will have access to video recordings of each session. If you register for past sessions you will receive the videos and be able to enjoy the conversations and the Sound Baths over and over again.