The Reaction to Action series invites us to take an honest look at judgment, and mitigating it through Generous and Reflective Listening. When we judge another, we separate from that person. When we judge ourselves, we separate from ourselves.
Judgment creates power imbalances, which fuel poor self-esteem, worry, fear, pain, misunderstandings, estrangements, mistrust, sexism, racism, bullying and so many of the world's ills.
Our personal health and the health of our world depend upon our meeting the "urge to judge" … that seductive urge to separate … with remedies that help us step to the same side of the line and stand together on common ground.
We concentrated in Part 1 of this series on the #MeToo Twitter movement. Part 2 focused on the #HowIWillChange phenomenon. Part 3 introduced the #SameDifferenceProject.
These posts provide context for New Year's Resolutions which contribute to the #SameDifferenceProject whose mission is to promote lasting personal and social change.
By Kathryn Hayward, MD, David L. Thomas, Jr., JD, Sarabeth Rees, MBA, David C. Read, MPH, MBA, and Stephanie Read
Since before the United States presidential election in November 2016, International Integrators has been gestating an Integrative Health project that contributes to resolving conflict. Conflict, whether within ourselves or directed at another, is about how we focus on our differences and turn a blind eye to our sameness, to what we have in common.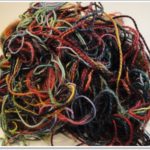 When we focus on our differences, our thoughts and behaviors are like a tangled ball of yarn. The individual yarn threads represent longstanding patterns of how we view ourselves and others.
Our internal tangles are expressed in the very loud, mean and obsessive voice of our self-judge.
Externally, when one person's tangle meets the tangle of another person, we get an even bigger tangle.
Inevitably, conflict ensues.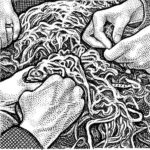 With patience and attention, we can untangle the threads. If we do it with others and engage in Generous and Reflective Listening, we can learn to untangle patterns that have caused us to feel stress and given us the illusion of difference. We discover our sameness, discover what we have in common.
Stephanie Read, one of our youngest Integrators, participated in a Generous and Reflective Listening experience with her father, Advisory Council member David Read. During the Generous Listening part of the exercise, David was feeling internal conflict about his busy work and volunteer activities which keep him away from family activities. He shared with Stephanie some things that are important to him as a father and as a person who is concerned about the health of people and the health of the planet.
David and Stephanie are not having a conflict in their father/daughter relationship about David's busy schedule, but David feels conflict within himself about the amount of time he spends away from his family. The Generous and Reflective Listening exercise helped him to share these feelings with his daughter.
During the following video clip (1.34 minutes), Stephanie reflects what she heard her father say:
This experience helped David and Stephanie feel heard by one another. It not only gives them a better understanding of their shared feelings, it also creates a strong foundation for communication that they will be able to use in the future for working through both internal conflicts and ones that they have with one another.
In a future blog, we will publish more of the Generous and Reflective Listening experience that David and Stephanie had together.
There are several ways that you can participate in the #SameDifferenceProject. Here are some suggestions:
Perhaps you feel inspired by Stephanie and want to take your own action. Perhaps there is something you want to share with someone and you have not been sure how to do it. We invite you to engage in Generous and Reflective Listening
You could do it with one other person with whom you want to share something and you have not been sure how to do it.
You could invite two people to come together and share something
With filming, you offer others the opportunity to witness something that may inspire them. As described in our prior blog post, Reaction to Action, Part 3, Generous and Reflective Listening converts the power of intentions, like those expressed in the Twitter movements #MeToo and #HowIWillChange, into action that can create lasting personal and social transformation.
Complete instructions for how to set up and film a Generous and Reflective Listening experience are included in that blog post.
You might comment below on this blog post or send us an email at info@internationalintegrators.org to let us know what issues you believe would be helped by Generous and Reflective Listening. If you engage in that exercise with someone else, how did it go and how do you and the other person now feel about yourselves, each other and the issues you covered?
You might comment below on this blog or send us an email at info@internationalintegrators.org about your thoughts on how Generous and Reflective Listening might be employed to foster greater understanding among people, to decrease biases and tensions among people or to help us feel better about ourselves and others.
And, we welcome any other comments, suggestions or input you may have on this Integrative Health topic!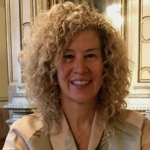 Kathryn Hayward, MD co-founded and developed International Integrators because she loves to collaborate with others who share her vision for global integrative health. She brings to International Integrators her experience in the practice of conventional medicine as a primary care internist, and in integrative health, as well as her connection to the natural world. Kathryn marvels at the power of collective, conscious action on the part of like-minded individuals to manifest change, and loves contributing to that action.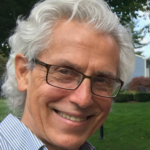 David L. Thomas, Jr., JD co-founded and developed International Integrators in concert with his passionate desire to initiate change in the way that we care for ourselves and each other, and the way we interact with and affect our natural environment. He brings his background as an attorney and businessman, and his expertise in nutrition and plant-based cooking and eating, to the collaborative effort to identify, mentor and support leaders in Integrative Health. David holds a BA in Spanish Literature from Haverford College, a JD degree from Georgetown University and a certificate in plant-based nutrition from the T. Colin Campbell Center for Nutritional Studies and Cornell University. He will be facilitating the nutrition and cooking curriculum in June at the next Living Whole Immersion Retreat in Ávila, Spain.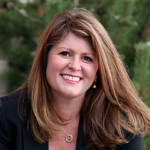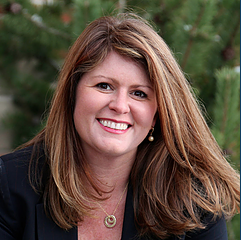 Sarabeth Rees, MBA, Principal in The Hyalite Group, is an accomplished strategist and business leader, and has advised Fortune 500 organizations all over the world. Highly respected by clients, colleagues and partners for her business insights, positive outlook and interpretative ability, she works with senior management teams to address complex business challenges. Sarabeth leads the International Integrators project, "Living Whole: A Learning Community," which brings Integrative Health, wellness and self-care education to universities.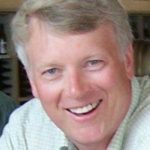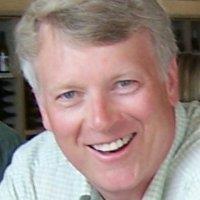 David Read, MPH, MBA has a passion for creating film. You can see his work in the January 23, 2017 blog post and in the April 11, 2016 blog post about bicycle commuting and safety, and in his film of the speech, Under the Regalia: Integrative Health and the Fear of Failure. Apart from his film-making and bicycling activities, he served as the Administrative Director for Cardiology at Massachusetts General Hospital and as Chief Operating Officer for the Department of Medicine at the University of Pennsylvania Health System. David is currently the Vice President of Ambulatory Care Operations and Medical Oncology at the Dana Farber Cancer Institute in Boston, Massachusetts. David serves on the Advisory Council of International Integrators.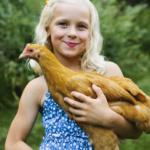 Stephanie Read is the President and Chief Executive Officer of Stephanie's Dog Sitting Service. With her older brother Brandon, whom she employs when demand is high, and when he is being nice to her, they provide dog sitting services both in her home or the dog owner's home throughout Boston's North Shore suburban area. The soon-to-be conglomerate is starting to branch out with new divisions to take care of other genus and species such as cats and tropical fish (separately of course). Stephanie's corporate creed, when it comes to pet care, is: "If we don't do it – you don't need it done."
She is currently excelling in 5th grade. For leisure activities she plays soccer, does gymnastics and dance and plays the piano. She also enjoys cooking and baking and has several whole food plant-based treats in her portfolio, which she loves contributing to International Integrators.